Application Development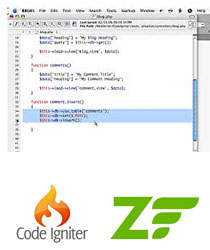 It's not always possible to find an "off the shelf" solution to fit your business requirements. No matter how large or small, Webmotions can create a custom solution, tailored for your needs.
With other ten years of experience, our team of developers are skilled in coding applications for all kinds of business. We have created a wide range of solutions that have streamlined business processes while increasing value to the organisation.
We develop using the latest coding methodologies (MVC/OOP) and utilize frameworks to deliver robust and stable applications
Some of our custom applications include:
CRM Solutions
Quoting/Invoicing Systems
Stone Cutting Solutions
Online CyberExams
Model Directories
Joomla Extensions
Open Cart Extensions
Mobile Apps
Languages and Frameworks:
PHP5
SQL/MySQL
Ajax
JavaScript/jQuery
JSON
Web Services
Code Igniter
Zend Framework
We understand that every business is unique so taking the time to under your business and business processes is vital in ensuring a successful application. Our team will spend time with you and walk you through every stage of the process, including the all important detailed specifications document.
Contact us to discuss your custom application requirements!
No job is too big ot too small!